Kỳ Thượng shines as hidden tourist gem
In Kỳ Thượng, the implementation of the local tourism model is closely associated with exploiting and preserving the indigenous culture of the Dao and natural landscape.
Nesting on the mountainous, remote district of Hạ Long City in the northern province of Quảng Ninh, Kỳ Thượng Commune is a little-known tourist gem of the famed coastal city.
The commune has a population of about 800, over 98 per cent of them are Dao ethnics. Its unique location enables them to preserve their authentic culture and almost intact natural landscape.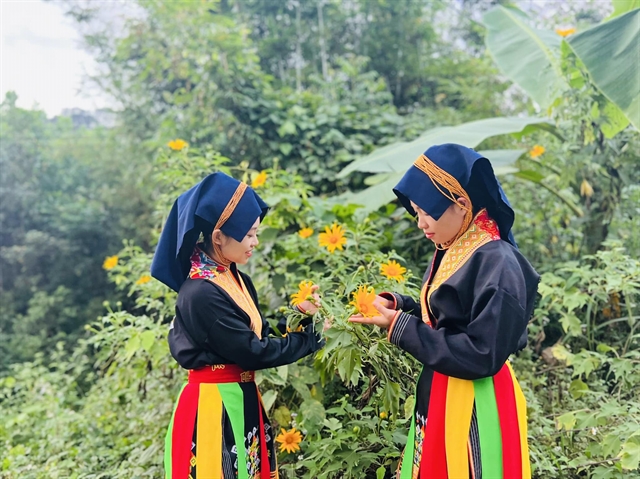 ETHNIC BEAUTY: The commune has a population of about 800, over 98 per cent of them are Dao ethnics. Photo courtesy of Am Váp Farm
It took us around two hours to arrive in Kỳ Thượng, located some 50km from Hạ Long City, after driving through a constantly winding narrow road. At times our car had to slow down to avoid the lorries loaded with acacia timber, the locals' primary source of income.
We were stunned by the surrounding landscape of the majestic mountains and acacia forests. Some high peaks afar were covered with a thick layer of early mist, and together with the typical fresh air of a high mountainous area, it created a perfect getaway for any nature lover.
Just three years ago, the commune was still ranked as a highly disadvantaged locality and included in National Programme 135, which focuses on poverty reduction. It could only be accessed on dry days by motorbikes when the path was not too slippery and covered with mud.
From the beginning of 2020, Hoành Bồ District was turned into an eco-service urban area supporting Hạ Long. The remote communes within the district, including Kỳ Thượng, seem to have been given a facelift after receiving significant investment in innovating their traffic and infrastructure to increase connectivity with surrounding areas.
With more accessible transport, the Dao people in the commune could earn income from afforestation and community-based tourism. By mid-2020, Kỳ Thượng was officially excluded from National Programme 135.
According to Nguyễn Đức Thanh, vice chairman of the People's Committee of Kỳ Thượng, a project to develop tourism in mountainous communes in Hoành Bồ was built after the district became part of Hạ Long City. The source of income of the locals will be gradually switched from agriculture and afforestation to higher-valued timber plantations and tourism.
In Kỳ Thượng, the implementation of the local tourism model is closely associated with exploiting and preserving the indigenous culture of the Dao and natural landscape.
"The typical natural feature of the locality is the vast area of forests and a large number of creeks surrounded with beautiful landscape, two significant elements that could be used for tourism," Thanh said.
"The three villages in the commune are divided by three main creeks - Khe Tre, Khe Lương and Khe Phương. Not only providing locals with fresh water and food, these creeks, with their primitive beauty, could become tourism magnets of the region."
Notably, the commune is home to the Đồng Sơn & Kỳ Thượng Nature Reserve which has been dubbed as the "green lung" of Quảng Ninh Province and the treasure of the Dao for generations.
Covering a total area of over 15,000ha, the nature reserve has among the most incredible biodiversity of flora and fauna in northern Việt Nam, many of which are included in the country's Red Data Book or listed by the International Union for Conservation of Nature, like crocodile, skink or frogfish.
A potential tourist attraction within the Nature Reserve is Thiên Sơn Peak, which is expected to attract adventurous visitors. A two-day and one-night tour is being surveyed, enabling tourists to have the overview of Hạ Long Bay, a UNESCO World Heritage site, and its vicinity from the 1,100m altitude of the peak.
As soon as the path leading to Kỳ Thượng was concreted at the end of 2019, several young Dao came up with the idea of building community-based tourism models. With the support from the local authorities and villagers, Am Váp Farm came into being. Since early this year, the facility has served tourists and created better livelihoods for villagers.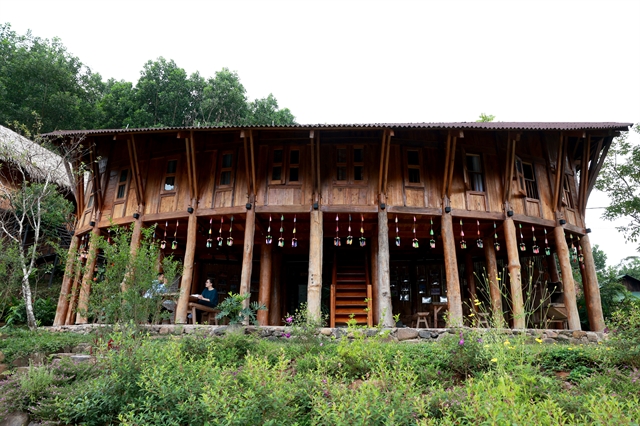 TRADITIONAL ARCHITECTURE: The stilt house in Am Váp Farm can accommodate up to 40 tourists. VNS Photo Trương Vị
According to Lý Tài Ngân, a local Dao ethnic, who helped establish the model, the primary source of income for ethnic communities here used to come from farming crops and exploiting the forest.
"Now it is different. The same people, on the same land, have together contributed to establishing the first tourism facility in their hometown," he said.
Located in Khe Phương Village, Am Váp Farm includes two stilt houses serving up to 40 tourists and a restaurant built of local timber wood. Its garden is a space dedicated to the traditional game of the Dao - ném còn (throwing a ball through a ring for good luck) and is full of blooming flowers that brilliantly colour the whole area.
The design of the stilt houses is a fusion of traditional and modern elements in harmony with the surrounding landscape. It is decorated with traditional Dao costumes and farming tools that showcase their cultural identities. Its unique shape, which looks like a ship sailing forward, symbolises that the commune is part of Hạ Long Bay.
Staying in Kỳ Thượng, tourists are immersed in nature and participate in various activities like trekking in the primitive bamboo forest, swimming in the clear-water creeks, rowing, or cycling around the village.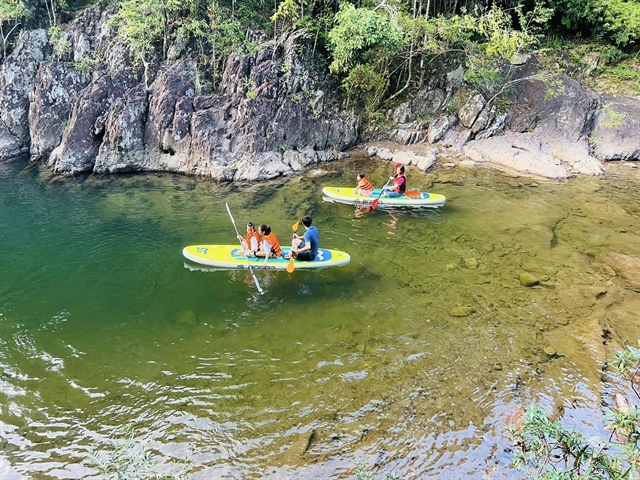 PLAIN SAILING: Tourists row on a transparent-water creek in Kỳ Thượng Commune. Photo courtesy of Am Váp Farm
At the same time, they can join the daily activities or witness rituals of the Dao, like handloom weaving, harvesting bee hives or the cấp sắc (maturity) ritual.
Another indispensable part of their stay is tasting the local cuisine, such as fish, snails caught from the creeks, honeybee pupa and bamboo shoots.
"The environment is fresh and cool, and the people here are friendly and hospitable. I did not think that there existed such a majestic mountainous landscape in Hạ Long until I visited Kỳ Thượng. It is a new and exciting experience," said Đoàn Lê Thu, a tourist from Hạ Long City.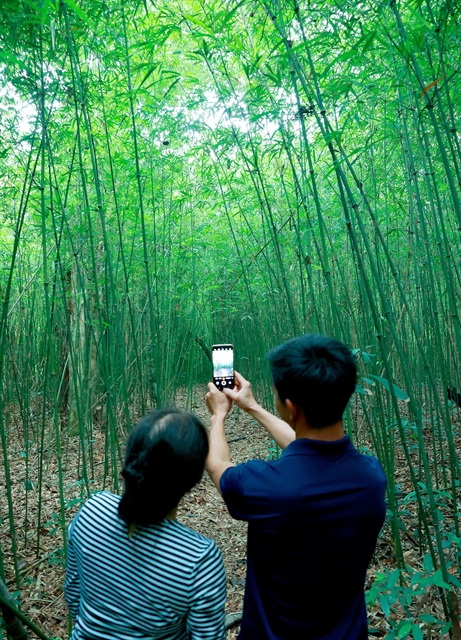 GREENERY: Tourists trek into the primitive bamboo forest in Kỳ Thượng Commune. VNS Photo Trương Vị
On weekends, the community-based tourism facility in Kỳ Thượng receives hundreds of visitors and provides a stable income for about 13 staff, all Dao ethnics.
"The job is suitable for women because it is not too hard, and the income is sufficient to cover their daily expenses," said Bàn Thị Hải, who works at Am Váp Farm. "I enjoy this job because I can interact with tourists, introducing and teaching them how to embroider our traditional products."
According to Thanh, the community-based tourism model will be expanded in the near future.
"A class will be opened soon in the commune to train local residents about the model. Hạ Long City is also compiling dossiers to seek provincial recognition of several community-based tourism destinations, including Kỳ Thượng," he said.
"Several options to shorten and ease the road to the commune are being considered, like building more bridges and roads through the mountains. When the route connecting Quảng Ninh and Lạng Sơn Province is completed in 2025, the tourism of the commune will have a chance to develop further." VNS.
Nguồn VietNamNew.net